New flooring can enhance a home's interior by injecting a fresh sense of style, comfort, and functionality. The right choice of flooring material, whether it's hardwood, Luxury Vinyl Plank (LVP), laminate, tile, or carpet, can instantly modernize the space and set the tone for the overall aesthetic.
Visually, it can create a cohesive look, complementing existing decor and architectural elements. Beyond aesthetics, updated flooring can improve the tactile experience, offering a more comfortable and pleasant surface to walk on. It can also impact the acoustics of a room, reducing noise and enhancing sound quality.
For those considering new flooring installation, anticipate a range of $1,518 to $4,706 in associated costs. The prevailing national average falls in the bracket of $3,067 for a 500-square-foot area, encompassing labor and material expenses. Nevertheless, several variables influence these costs, such as the need to remove the current flooring, the potential replacement of a compromised subfloor, or the remediation of hazardous materials.
Before hiring a flooring company for floor installation, you should consider various factors in calculating floor installation costs. As a flooring company in Chesapeake, we have also discussed whether it's right to take a DIY route or hire a professional company.
Let's get started!
Factors in Calculating Flooring Installation Cost
While the average cost for flooring projects spanning 500 square feet tends to be around $3,067, the total expense can vary significantly based on the specific area you intend to cover. Geographical location plays a crucial role, with urban regions' heightened cost of living incurring higher labor charges.
Opting for upscale flooring options could also lead to a staggeringly high cost. Moreover, the removal of the pre-existing flooring, undertaken by the installation team, constitutes another significant determinant capable of driving prices higher. Therefore, the overall financial outlay is subject to fluctuations determined by flooring quality, location, square footage, and removal requirements.
Here are factors that flooring companies consider when calculating the cost of new flooring:
Labor
Flooring installation costs comprise significant elements such as the chosen floor material and the area's dimensions. Yet, the labor involved is an equally vital aspect impacting the final expense. The labor cost for each square foot of flooring installation varies, ranging from $1 to $15.
More straightforward installations, like floating hardwood floors atop an existing surface, are more economical than intricate tasks like placing weighty tiles or adhering planks. When flooring removal is necessary, an added charge might apply, with removal complexity influencing labor expenses. Extracting a 12-foot by 12-foot stapled carpet takes roughly three hours at a $60 hourly rate, while a glued carpet's removal, being more laborious, demands additional time.
According to experts, rooms with intricate designs or challenging access, such as those with numerous tight corners or spanning multiple levels, may trigger supplementary labor costs, thereby elevating the overall installation expenditure. Additionally, accessibility to plumbing fixtures or the requirement to relocate appliances can also influence costs.
Experts suggest engaging multiple reputable local flooring companies for an accurate project estimate.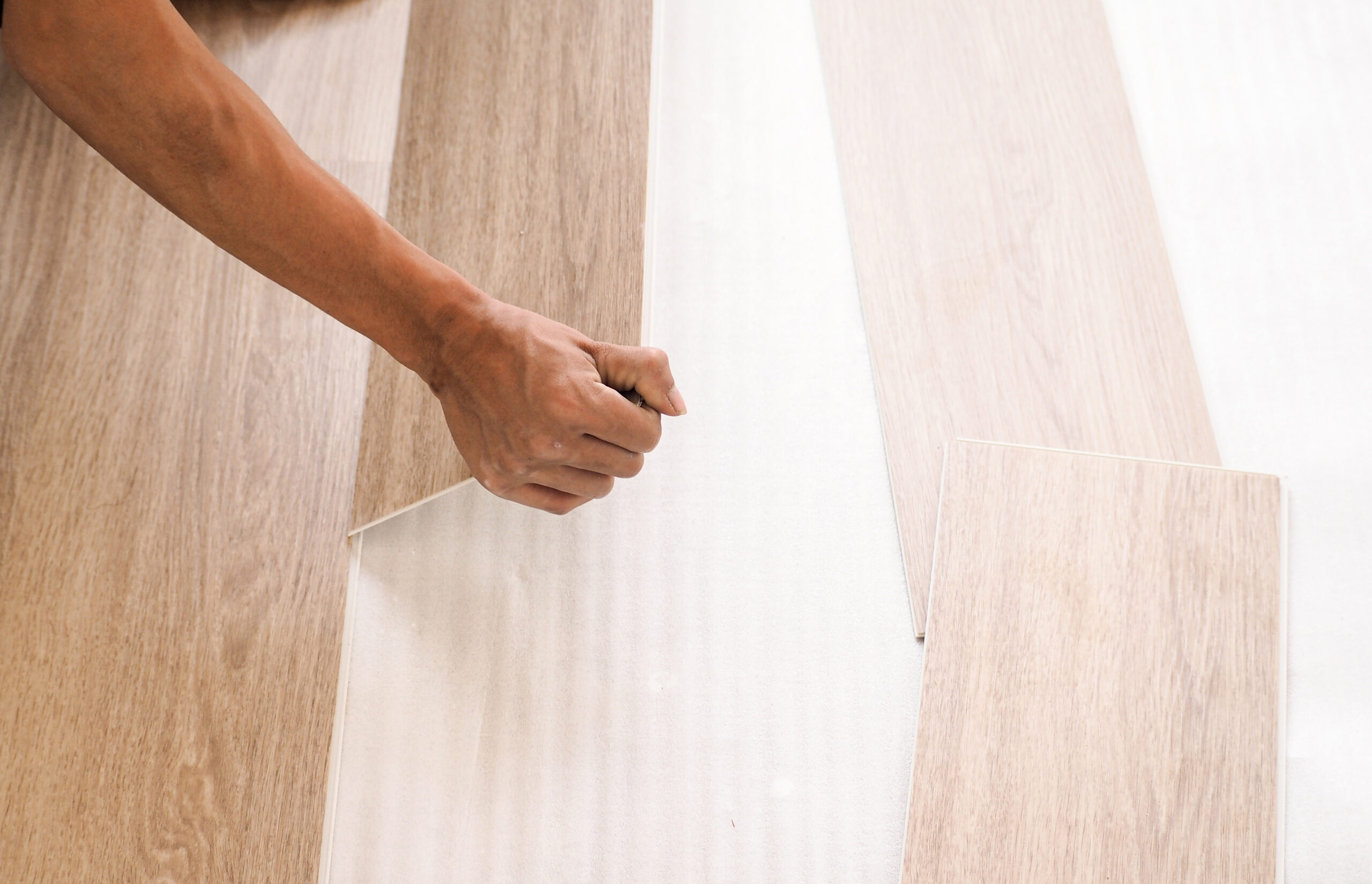 Type of Flooring Material
The primary determinant influencing the cost of a flooring installation project is the chosen floor material. For instance, hardwood installation costs between $6 to $22 per square foot, while carpet installation ranges from $3.50 to $11 per square foot. Opting for porcelain tiles, ceramic, or natural stone constitutes a higher-priced alternative, costing $6 to $20 per square foot.
Experts at Yates Flooring Company suggest that installing tile or hardwood flooring tends to incur higher costs than luxury vinyl plank (LVP), carpet, or laminate flooring. Additionally, the process of installing tile or hardwood usually demands more time. Conversely, carpet installation is commonly more budget-friendly than hardwood, though it requires more regular flooring maintenance. While laminate flooring is generally less expensive than hardwood and carpet, it has a relatively shorter lifespan.
Size of The Floor
The floor's dimensions represent an additional substantial determinant of costs; installing flooring over 200 square feet is more economical than covering 2,000 square feet. Moreover, the extent of the area undergoing re-flooring directly influences labor expenses. While an individual might handle tile installation for a compact space like a foyer, tiling a spacious kitchen could necessitate the involvement of multiple individuals.
Other Costs to Consider
Similar to any home improvement project, potential additional expenses can impact the overall expenditure. For example, the flooring installation company might charge a fee for relocating furniture before installation. An extra charge will be incurred when the subfloor is compromised and necessitates replacement or repair. Nonetheless, there are instances when these services might not be essential.
Stairs
An additional potential expense involves installing flooring on specific architectural elements within your home, such as stairs. For instance, if you opt for carpet installation on your stairs, anticipate costs ranging from $3.50 to $11 per square foot and an expenditure of $11 to $160 per step. Alternatively, if you prefer hardwood installation for stairs, the cost would average around $160 per step.
Removal of Existing Flooring
While it is feasible to install new flooring over existing flooring, many flooring manufacturers advise the prior removal of the old floor. This precautionary measure is advisable due to the potential presence of concealed subfloor issues. Moreover, introducing new flooring could elevate the floor's height, potentially leading to complications with door functionality. The expense of eliminating pre-existing floors fluctuates depending on the existing floor type, typically averaging between $1 and $6 per square foot.
Subfloor Repair
The subfloor, positioned beneath the visible flooring, remains challenging to assess until the upper layer is dismantled. Nevertheless, experts note that "Several key indicators can signal the necessity of repairing the subfloor before installing new flooring." The initial clue pertains to water damage. Similarly, if your home has had subfloor moisture in the past, it also calls for either repair or replacement.
Another indicator involves soft patches underfoot or floor irregularities, potentially indicative of moisture impact or wood decay. Experts recommend hiring a flooring company for evaluation that will inspect and look for signs to determine if the subfloor needs repair or replacement.
Repairing subfloor areas or doing a complete replacement can incur more costs. Typically, a fresh subfloor incurs costs averaging between $2 and $2.50 per square foot. Furthermore, impaired baseboards may result in extra charges for their removal and reinstallation.
DIY vs. Professional
Opting for DIY floor installation can yield cost savings compared to hiring a professional, where charges typically range from $1 to $15 per square foot. While the appeal of lower expenses is apparent, it shouldn't be the sole consideration. Experts caution that homeowners should consider several factors during floor installation. Inadequate sealing of the flooring may enable moisture penetration, damaging the subfloor. Oversight of expansion and contraction due to temperature and humidity changes is another common mistake that can lead to warping or buckling.
The complexity of installing floors, especially hardwood, is notable. Proper wood acclimation and utilizing suitable equipment for subfloor moisture control are preconditions for flooring installation. Neglecting such precautions, known to professionals, may result in long-term moisture-related hardwood issues. Hiring a professional flooring company offers various benefits. They have years of experience and expertise in the market, which ensures proper installation and flooring maintenance with little to no error. On top of that, they also have access to cutting-edge equipment and tools to streamline the process. Hence, hiring a professional company is better than doing it yourself.

Yates Flooring – Your Flooring Installation and Maintenance Partner!
Elevate your home's appeal with Yates Flooring's top-notch Luxury Vinyl Plank (LVP) floor installation services in Chesapeake, VA. Experience the charm of wood or stone floors without compromising convenience or breaking the bank. Our LVP flooring offers the perfect blend of aesthetics and practicality. Say goodbye to worries about water damage, as LVP is water-resistant, ensuring longevity and reliability. With remarkable durability and minimal maintenance requirements, our LVP flooring promises years of enduring beauty.
Dive into a world of endless color possibilities that can transform every corner of your living space. From classic to contemporary, our LVP options cater to diverse tastes, enhancing the allure of every room in your home. Let us turn your flooring dreams into reality, combining affordability with elegance.
Yates Flooring's expert installation ensures a flawless finish, maximizing the lifespan and appeal of your LVP flooring. Take advantage of this opportunity to enhance your home's ambiance and value. Contact us today and unlock the potential of Luxury Vinyl Plank flooring for a remarkable, lasting transformation.