Your home deserves beautiful flooring, expertly installed!
WE ARE THE FLOORING INSTALLERS
YOU CAN TRUST
What are the benefits of CLICK LOCK VINYL FLOORING?
– Durable and long-lasting (no need for expensive replacements) – Scratch resistant, dent resistant, and moisture resistant (easy to maintain) – Sustainable flooring option (better for our planet) – Choice of colors available – Classified as "Green" product by Greenguard Gold
Conclusion: CLICK LOCK VINYL FLOORING is a durable, long-lasting, and sustainable product that will do wonders for your home. Why not have it installed today?
The Evolution of Vinyl Flooring
It's tough to believe that vinyl flooring is a product that only came into commercial use in the 1930s. The first PVC floors were used in aircraft hangars and military hospitals because they were easy to clean and install. It was soon adopted by hospitals and restaurants, both places where sanitation was a top priority because of the potential for cross-contamination.
Elasticity or "give" has always been a valued characteristic of vinyl flooring but never more so than now, thanks to new developments such as PureFlex Technology from Shaw Industries and many other brands we carry.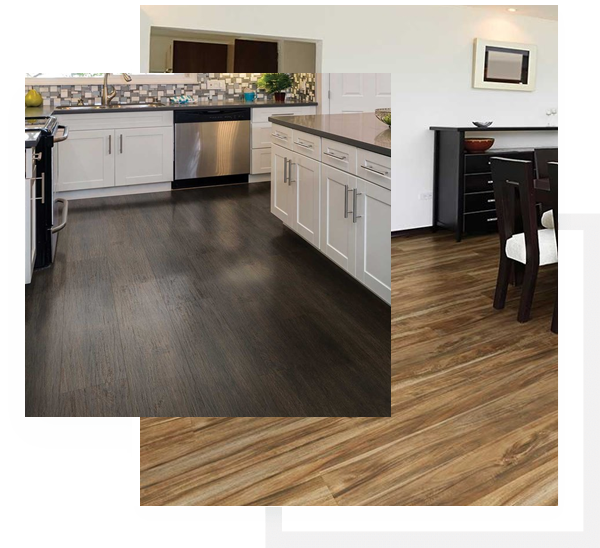 Click Vinyl Flooring isn't 'ALSO' What we do – It's ALL We Do!
Truly amazed at the professional work done by Pete Yates and his team. I had luxury vinyl plank and laminate installed and both look seamless. Zero flaws. It's beautiful. And best of all it's affordable. Better deal than lumber liquidators contractors and several others I called. Also, I was able to get an appointment within 2 weeks, all other companies gave me a 4 week timeline. If you need flooring installed, you will not find better than Yates flooring.
Very pleased. Great service, great integrity, I can't say enough positive things. They were realistic with challenges in my project. They communicated throughout the process. Gave solid options and recommendations. Our project: flooring for living room, dining room, laundry area, hall closet, and bathroom. They started on time, finished on time, and no surprises with costs, true to the quote. Would highly recommend their services.
Pete and the guys did a great job with the install, highly recommended! Easy to deal with and quality work.
We'll Knock out your project.